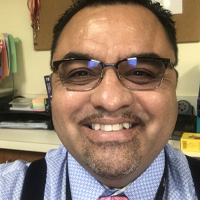 Position
Math Teacher
Degrees
MEd Teaching and Learning (Cameron University)
BS Psychology (Cameron University)
BA Mathematics (Cameron University)
A math teacher at Calvert Academy, Nadab Juarez-Flores previously served as a math tutor for college freshmen. His role helped freshmen adjust to the rigors of college, while gaining valuable experience teaching math to students one-on-one.
"I enjoy interacting with my students, seeing them engaged in their learning, and helping them understand and learn to love math," he said.
Born in Ciudad Juárez, Mexico, Mr. Juarez-Flores is the oldest of 7 children. His father also was a mathematics teacher for over 30 years before his retirement. Today, Juarez-Flores lives in Oklahoma with his son, Nashoba. He enjoys watching shows that teach him more about science and outer space.
MORE ABOUT MR. JUAREZ-FLORES
Favorites: My favorite food is crab alfredo, my favorite book is the Bible, and my favorite movie is A Beautiful Mind. I listen to several music genres (regional Mexican, romantic ballads, and some country), and I like to watch soccer, especially the English Football League and the Mexican Liga MX.
Three words to describe himself: Helpful, passionate, and resilient
Alternative career choice: If I could pursue a different career, it would probably be in microbiology.
Most treasured possession: My children and grandchildren
Person he'd most like to meet: I would like to meet Dr. Jo Boaler. She is a British education author and professor at the Stanford Graduate School of Education. I would like to meet her because she is a promoter of equitable mathematics practices.
Unknown gem: While I was in the U.S. Army, I got to travel to Cairo, Egypt, and had a chance to walk into two of the three pyramids at Giza.