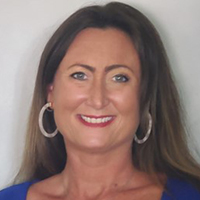 Position
Middle School and High School Math Teacher
Degrees
MA Educational Leadership (Western Kentucky University)
BS Applied Mathematics (Brescia University)
A middle school and high school math teacher, Devin Alderson has over 20 years of experience teaching mathematics in a variety of settings, including traditional school and online. At Calvert Academy, she enjoys working with students in the virtual classroom.
"It is always exciting when a student understands material that they may have been previously struggling with," she said.
Born in Kentucky, some of her fondest memories are from spending summers on the farm with her dad's family. Today, she is a wife and mom of five great kids, and she homeschools their three youngest children.
MORE ABOUT MRS. ALDERSON
Hobbies: Gardening, swimming, reading, and watching Disney movies
Three words to describe herself: Dedicated, caring, and honest
Alternative career choice: Home remodeling. My husband and I both really enjoy home projects!
Most treasured possession: A ring my husband gave me almost 10 years before we married
Bucket list item: Skydiving
Person she'd most like to meet: Dolly Parton. My dad and I used to listen to her music driving to the farm when I was young, and I have always admired her!
Unknown gem: I make most of the products we use in our home like lotions, perfume sprays, soaps, cleaners, etc.